It's May Appaloosa friends and most of us in the US still are not released from state mandated isolation practices so there are still no horses shows! We hope you are enjoying some good rides in the spring weather. As there are still no show results to report, we plan to continue our Meet Your Neighbor series.
This week's neighbor is Amanda Check. Amanda is a long-time Appaloosa owner and enthusiast from Pennsylvania.
Amanda started riding at Hope Lock Farm in Easton, PA around 1984.  Her aunt had ridden horses when she was younger and influenced Amanda's desire to ride.  As her parents were not horse people, her father asked a friend in the horse business, Fred Klotz (a farrier in the area) for a recommendation and he suggested Gayle Matson at Hope Lock.  Amanda took lessons at Hope Lock from Anne Mabus when she was 6 and 7 years old.  Amanda's parents were supportive of her desire to ride but never really understood her love of riding. 
 A number of years later Amanda went to girl scout camp, where she rode.  This reignited her desire to ride consistently.  At the age of 12 she went back to Hope Lock Farm to start riding again.  She would clean stalls and tack or do chores around the farm for extra riding time.  As a teenager, Amanda worked summers at the girl scout camp and would return to riding when camp was over.  When she turned 16 (driver's license age in PA) her parents offered her an option.  They would either buy her a car or pay for a lease on a horse.  Of course, Amanda chose the horse figuring her bicycle could get her where she needed to go.  Amanda leased a quarter horse on the farm named T.C. Somebody.  She showed T.C. in the all-around events on the local Penn Jersey show circuit.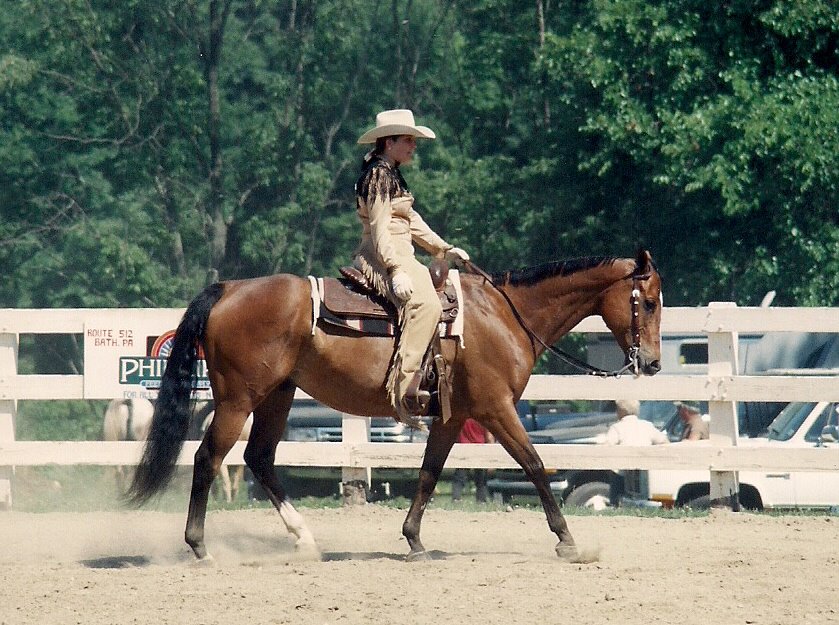 When she graduated, Amanda attended Penn State where she would earn a bachelor's degree in Microbiology.  She didn't ride while she was in college, focusing on her studies.  After graduation she got back in touch with a friend from Hope Lock, Kate Lonergan, and started to ride Kate's horse Corey (Ups n Downs).  Amanda had an incredibly rough senior year of college.  Her mother passed away her senior year and Amanda says that being back around the horses after her mother's passing was extremely cathartic for her.  Amanda rode and showed Ups N Downs on the Penn Jersey circuit when she could as she traveled often for work during at that time. While at the barn riding Corey, Amanda was introduced to Bert (Zips Hot Rox) whom she later bought and has owned for the past 18 years 
Amanda and Bert have had an extremely successful show career.  Bert turned out to excel at Saddle Seat and Pleasure driving. Under the guidance of Ray and Connie Burchett, with Zips Hot Rox, Amanda has won three World Championships in Non-Pro Saddle Seat Equitation and one World Championship in Open Saddle Seat Pleasure and Non-Pro Saddle Seat Pleasure.  She and Bert have two Reserve World Championships in Open Saddle Seat Pleasure and a Reserve World Championship in Non-Pro Saddle Seat Pleasure and Non-Pro Pleasure Driving.  They have won the Year end High Point in Non-Pro Saddle Seat Equitation three times, Non-Pro Saddle Seat Pleasure four times, Open Saddle Seat Pleasure two times, Open Pleasure Driving and Novice Non-Pro Western Horsemanship once.  Bert has also achieved his Supreme Champion award as well as a Superior event horse in Open Saddle Seat Pleasure and a Non-Pro Superior Event Horse in Non-Pro Saddle Seat Pleasure.  Amanda also achieved her Non-Pro Versatility Champion award on Bert. 
Amanda's favorite memory showing horses happened at the 2016 World Show.  This was Bert's last show at the age of 17.  His last class of the show was Non-Pro Pleasure driving.  Amanda describes this class as a perfect moment.  It felt like just her and Bert in the pen.  Bert was in his zone and she was singing to him as they were going around the pen.  They were both in their happy place.  The result of this completely gelled moment was a Reserve World Championship in Non-Pro Pleasure Driving.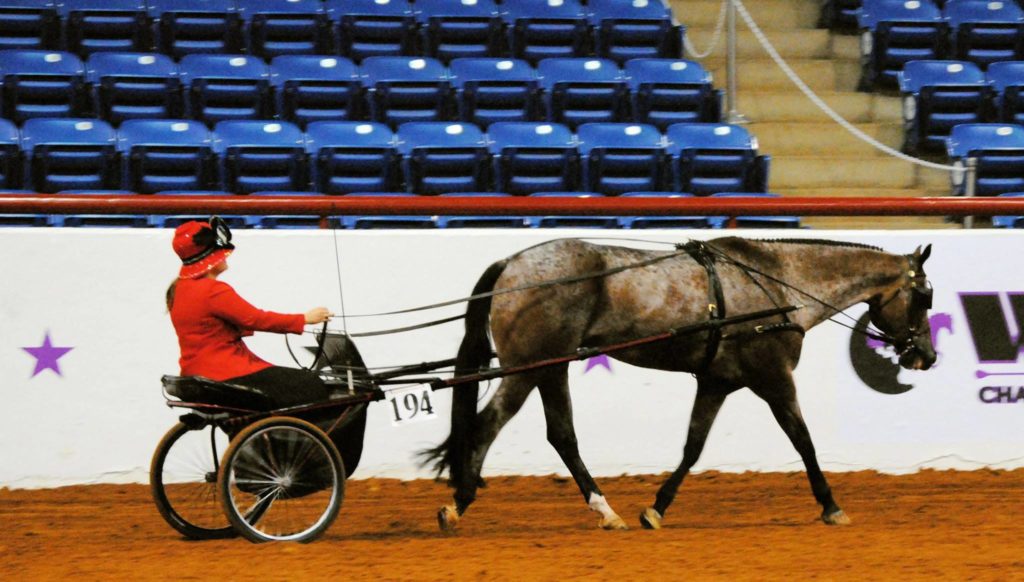 The achievement that Amanda is most proud of is obtaining her Non-Pro Supreme Champion award on one horse.
So, what is next for Amanda?  Several years ago, she purchased Moose (Love My Look) and changed disciplines from Saddle Seat to Ranch.  Additionally, she recently bought a small farm and brought her boys, Bert and Moose, home in the fall.  She has transitioned from lifetime boarder to farm owner.  Now that they are home, she is finding a different balance in life.  Having the horses at home means she has to learn how to balance extracurricular activities with what has to happen on the farm.  She was planning to take this year off from showing to continue to get her farm set up to her liking. 
I always like to ask our neighbors why they enjoy horses and specifically why Appaloosas. Amanda says she loves riding horses because you can always learn more. No matter how long you have been riding, there is always something new to learn to help make you a better rider and horseperson. She does not ever want to stop learning. The challenge, though sometimes frustrating, is always rewarding.
As to why Appaloosas?  The honest answer is that she started riding Appaloosas because they were the horses that were at the barn where she started to ride.  She stayed with the breed because of the people.  The people that she has met through riding and showing Appaloosa horses have become her family.  Her Appaloosa family are what keeps her in the breed.